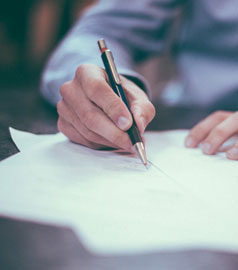 A debt collector may telephone a consumer about a consumer debt at the consumers place of employment after the consumer tells the debt collector he cannot receive such telephone calls.
A.  IF THE CONSUMER FAILS TO FOLLOW UP SUCH REQUEST WITH A LETTER
B.  IF THE DEBT COLLECTOR HAS NO OTHER CONTACT INFORMATION EVEN AFTER MAKING A REASONABLE EFFORT TO OBTAIN ANOTHER PHONE NUMBER
C.  IF THE CONSUMER WORKS BETWEEN 8:00AM AND 9:00PM
D.  IF THE DEBT COLLECTOR TELEPHONES THE EMPLOYER FIRST AND GETS PERMISSION
E.  NEVER
Get trained and certified today!
Sign up for the FDCPA Certification course at the exclusive discounted rate of just $49. You may also be eligible for CLE credits, too!
This special price offer is open to all of our network attorneys. If you're not an attorney covering hearings for Local Counsel Collective yet, just go to our site and join!