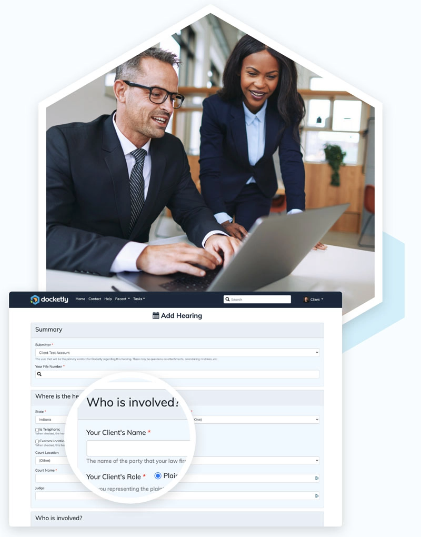 The Perfect Fit for Your Busy Practice
Improve Your Productivity
Spend your time and resources growing your practice instead of attending another hearing. Our best-in-class appearance attorney network covers your case, so you can optimize your time.
Reliable Expertise at Your Fingertips
Avoid time vetting, hiring, and training new associates. With Docketly's deep network of 10,000 attorneys, you'll have immediate access to experienced, knowledgeable, and trusted appearance counsel.
Grow and Scale Your Business with the Right Support
An appearance counsel strategy is a great way to improve your profit potential, accommodate higher caseloads, and expand your firm's reach.
Margurit
"Everything is very organized and tracks on schedule. If a problem arises, Docketly addresses the problem usually on the same day."
Shannon
"I am very satisfied with Docketly. I love it that your attorneys always return a copy of the pleading with their report!"
Bryant
"Honestly, out of all the companies I have dealt with that handle this sort of work, your company is BY FAR THE BEST. Keep up the good work!"
Freelance Attorney? Come Earn with Us!
Increase Your Earning Potential with Docketly
As an appearance attorney, you can use your skills to earn extra income—paid twice weekly! Grow your network, take on assignments to fill schedule gaps, and make your days at court more profitable.
Designed for Your Success
Discover why so many appearance attorneys love earning with Docketly. With help available via mobile app, live chat, or phone call, and our proven prep, we support you every step of the way.
Complete Flexibility
Accept only those assignments you want. When, where, and how often you work is completely up to you.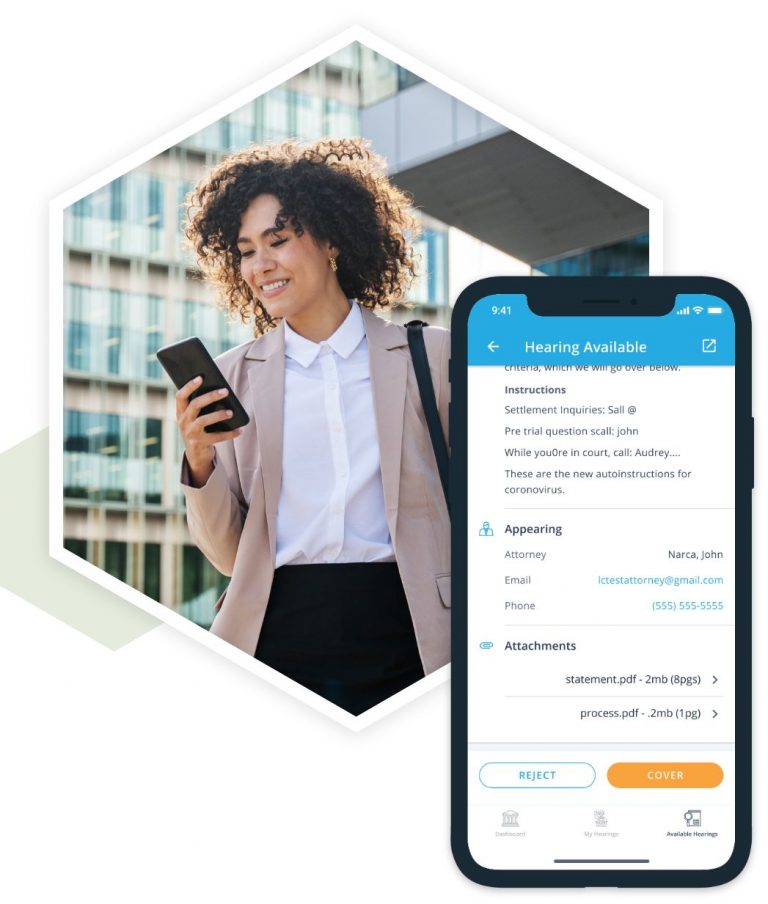 Roland
"Amazingly user friendly. Docketly is a class act. I REALLY appreciate the way you respect lawyers."
Margot
"The mobile app provides another level of convenience. It allows me to accept an appearance that I may have missed on account of being away from the computer."
James
"Docketly is an amazing resource to pick up valuable work, stay sharp, supplement my law practice, and get face time with courts and judges in counties I don't normally practice in."
Derrick
"It is a fantastic way to augment business or fill up a spare day. I thoroughly enjoy visiting counties that I have never been to."
Abigail
"Docketly's website is excellent! It's easy to use, the attachments download quickly, there are no broken links, and everything is available from the Attorney Home page."
Gregory
"Easy to manage my hearings, good selection of hearings available. Prompt payment."

Get the Best Coverage for Your Hearing
I'm a law firm interested in appearance attorney coverage for a docket call, status hearing, motion for default judgment, or other assignment.
Start Earning as an Appearance Attorney
I'm an attorney interested in earning extra income with Docketly and viewing appearance attorney assignments near me.